The national team coach of Nigeria Gernot Rohr says his primary target at the forthcoming World Cup in Russia is to qualify from the group. Nigerians have high expectations at the world event but the team's handler has revealed a modest ambition, probably after working out the numbers.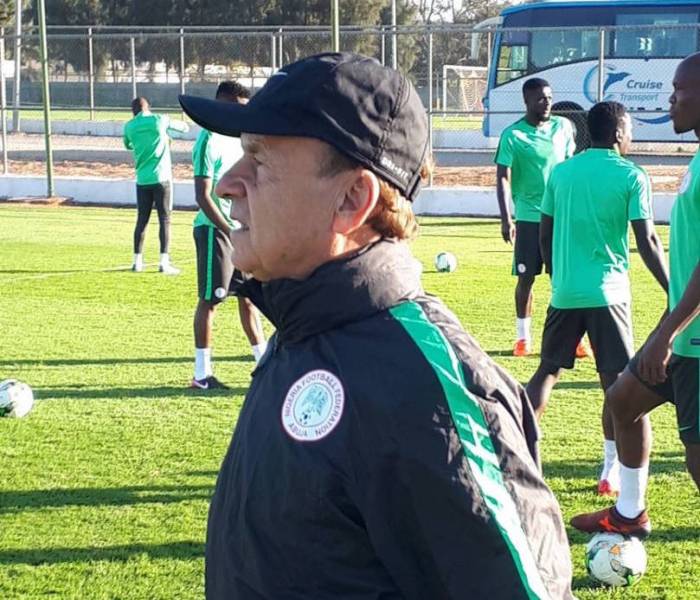 The German manager set the World Cup target in Lagos during his contract extension ceremony. Rohr hinged his hope on Nigeria defeating Croatia, "one of the most technically sound teams in Europe." He added that Iceland plays similarly to Nigeria and that he hopes the Super Eagles can beat them as well before facing Argentina, who would be gunning for a revenge following their recent loss to Nigeria in a friendly.
The coach added that he would consider current form, club activity and level of fitness when inviting players for the World Cup. He praised the return to Ahmed Musa to Locomotive Moscow to get regular action as he could not get games at Premier League side Leicester City. He was also happy with the situation of Kelechi Iheanacho, who grabbed a double against Fleetwood recently. He earlier asked the duo to seek more game time or risk losing their spot in the team despite their prominence in the past.
Russia is getting a lot ready for the world this summer. A report recently claimed Russia has spent $8.5 billion to put in place the infrastructure required to successfully host the World Cup. Despite the concerns, Russia insists they are ready to host the rest of the world and ensure it is hitch-free.
Recent reports by a UK analysis firm claim Russia would be an ideal target for ISIS. There are fears that the Islam militant group would target the event but Russia insists that such will not happen on their ground. They rather accuse Britain of sponsoring propaganda against them.